If you're having trouble reading this email, you can see it on our website.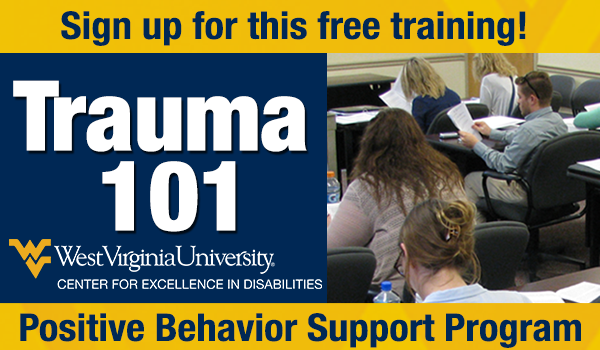 Register Now!
Come join us for Trauma 101. This free training explores the effects of trauma, different types of trauma, and how to provide trauma-informed care. Participants can expect to learn how trauma affects the brain, how to assess for trauma, and ways to build resiliency. This training is beneficial for professionals assisting people who have experienced severe traumas and especially helpful for those working with children affected by the opioid crisis in WV.
After attending you will be able to:
Identify sources of potential trauma and complex trauma for individuals served by child serving systems.
Recognize the impact of trauma on emotional and behavioral functioning.
Describe principles of trauma-informed systems.
List ways to provide trauma-informed care.
Training Date:
December 12, 2018
Time:
10:30 AM - 3:30 PM
Location:
WVU Center for Excellence in Disabilities
2nd Floor Conference Room
959 Hartman Run Rd.
Morgantown, WV 26505
3.5 social work CEUs are pending approval.
For Questions
E-mail: PBS@hsc.wvu.edu
Phone Number: 855-558-4296
Website: pbs.cedwvu.org
The PBS Program is funded through a grant with the WV Bureau for Behavioral Health.