If you're having trouble reading this email, you can see it on our website.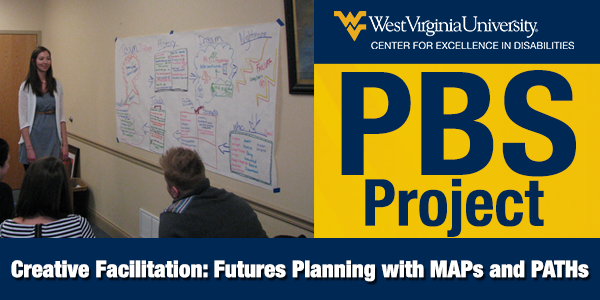 Registration opens August 21st
This training will prepare participants to facilitate person-centered planning using MAPs (Making Action Plans) and PATHs (Planning Alternative Tomorrows with Hope).
After attending, you will be able to:
Identify the steps involved in each of the following person-centered planning tools: Circle of Support, MAP, and PATH,
Utilize person-centered planning techniques to involve persons with disabilities in planning for services and integration into community settings, and
Provide instruction and techniques to empower persons with disabilities and/or their teams in developing goals, identifying needs, and generating action plans.
Please note:
Participants must attend both days of training.

Register Here August 21st

9.75 Social Work CEUs are pending approval.
Training Time: 9:30 AM - 4:15 PM
Morgantown Training
WVU Center for Excellence in Disabilities
959 Hartman Run Rd.
2nd Floor Conference Room, Room 213
Morgantown, WV 26505
Training Dates: September 26th & 27th
Charleston Training
WVU Extension Service
4700 MacCorkle Ave SE
10th floor conference room, Room 1017
Charleston, WV 25304
Training Dates: October 25th & 26th

For Questions: PBS@hsc.wvu.edu or 855-558-4296
The PBS Project is funded through a grant with the WV Department of Health and Human Resources, Bureau for Behavioral Health and Health Facilities.